Month Count: 4 texts, 4 audiobook, 8 total
Year to Date: 42 texts, 19 audiobooks, 61 total
Goodreads profile HERE!
Bookstagram profile HERE!
Book of the Month Referral Link HERE!
Catch up on previous month's read recaps: January – February – March – April – May – June – July
The Great Alone by Kristin Hannah via Libby App another solid win by Kristin Hannah. I don't know how she does it… How she moves from one piece of history to another so seamlessly, creating completely new characters that you become so invested in.
DESCRIPTION via Amazon:
Alaska, 1974. Unpredictable. Unforgiving. Untamed.
For a family in crisis, the ultimate test of survival.
Ernt Allbright, a former POW, comes home from the Vietnam war a changed and volatile man. When he loses yet another job, he makes an impulsive decision: He will move his family north, to Alaska, where they will live off the grid in America's last true frontier. Thirteen-year-old Leni, a girl coming of age in a tumultuous time, caught in the riptide of her parents' passionate, stormy relationship, dares to hope that a new land will lead to a better future for her family. She is desperate for a place to belong. Her mother, Cora, will do anything and go anywhere for the man she loves, even if means following him into the unknown.
At first, Alaska seems to be the answer to their prayers. In a wild, remote corner of the state, they find a fiercely independent community of strong men and even stronger women. The long, sunlit days and the generosity of the locals make up for the Allbrights' lack of preparation and dwindling resources. But as winter approaches and darkness descends on Alaska, Ernt's fragile mental state deteriorates and the family begins to fracture. Soon the perils outside pale in comparison to threats from within. In their small cabin, covered in snow, blanketed in 18 hours of night, Leni and her mother learn the terrible truth: They are on their own. In the wild, there is no one to save them but themselves.
DISCUSSION: The reviews are pretty mixed on this, though I really enjoyed it. Ernt is a challenging character to read about. The abuse is starkly heartbreaking and enraging. I enjoyed the Alaskan community coming together to rally around a family and show them the ways. Leni and Cora were good protagonists in my opinion… They're both stronger than they know, but in very different ways. There should have been no reason Cora survived those Alaskan ways!
**POSSIBLE SPOILER**What I have the biggest problem with was the ending when Leni makes it back to Alaska and turns her mother's letter over to the sheriff. The way she gets out of his charges and everyone just walks away from it seemed like a cop out. Like KH just couldn't figure out a believable yet creative way out so she defaults to the "I'm connected to someone who has power and influence over you so you better let this go…" Maybe it would have been fine to default to that if it didn't happen and end so abruptly. It felt a rushed way to get this detail wrapped up.
Overall, my favorite parts were Leni falling in love with Alaska and Large Marge. The creepy division of the town between the conspiracy-theorists and the rest of them felt eerily similar to the "Trumpsters" we see in society now (I'm not talking about Republicans, or even people who voted for him, I mean the craziest ones who took his words to the Capital.)
RATING: 4/5 stars… would recommend!
FAVORITE QUOTE: "… home was not just a cabin in a deep woods that overlooked a placid cove. Home was a state of mind, the peace that came from being who you were and living an honest life."
The Great Gatsby by F. Scott Fitzgerald. I can't remember what made me want to read this, other than finishing The Four Winds made me want to go back and read John Steinbeck, and when I think of the classics, this is one so many people have raved about. Specifically, it makes me think of my friend Kati Annis – a mom, and friend I met way too many years ago in Northern Minnesota. We don't keep in touch outside of social, but I know this is a favorite of hers and it's been on my mind!
Unfortunately, The Great Gatsby wasn't so great for me. The best parts were the connection between Asheville, where I live, and my hometown of Duluth, Minnesota. I have a feeling it makes a great movie and I have the image of Leo DiCaprio cheersing at his party forever stuck in my head as iconic. I'll watch the movie and let you know.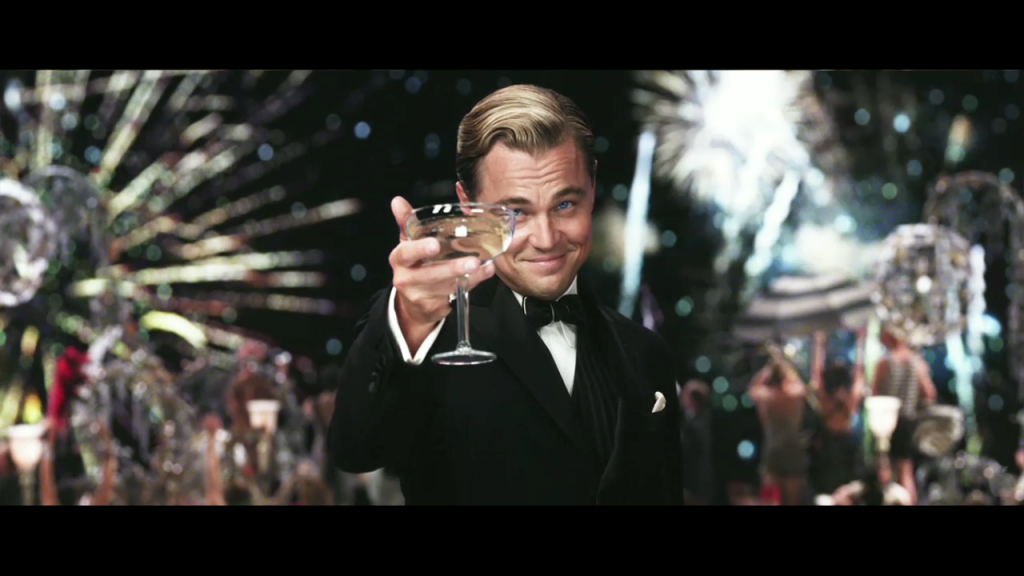 A Touch of Jen by Beth Morgan via Audible was a random pick on Audible. I didn't know what to pick for my last month's credit, mostly due to an editor's review saying ""Um, holy shit…This novel will be the most fun you'll have this summer." Well, if that's the case – shoot me. It was horrible.
DESCRIPTION: Remy and Alicia are dating and are obsessed with Remy's former coworker, Jen. They stalk her instagram… Alicia pretends to be her for role plays during sex and foreplay for Remy's pleasure… Alicia has never met her, but she tries to embody everything she imagines from Jen's IG posts.
When they run into Jen socially, she invites Remy and Alicia to a surfing trip with friends up in the Hamptons. At first they weren't going to go, but they end up joining the group and it's all sorts of awkward. Upon returning home, things just get more and more weird with Alicia practically trying to become Jen and the obsession goes dark.
"Part millennial social comedy, part psychedelic horror, and all wildly entertaining, A Touch of Jen is a sly, unflinching examination of the hidden drives that lurk just outside the frame of our carefully curated selves..." via Amazon
DISCUSSION: Ummmm, ew. Also, WHAT? If it wasn't creepy enough that Remy and Alicia fantasize about Jen via her social media platforms, the author adds this weird almost sci-fi component in the second half that didn't really fit in the book. I finished it, I don't know why. Probably just to feel somewhat resolved, which of course didn't happen. IDK, not for me.
RATING: 2/5, definitely would not recommend and pretty disappointing I can't ask for a refund.
FAVORITE QUOTE: Since I really didn't like the book, this comes from one of my favorite reviewers on GoodReads, Claire Smith for the win again!
1) "Wow, page 7 is really early to mention the concept of torture in a cavalier tone."
2) "These characters are unbearable"
3) "I think I'm going to stop reading this…"
4) "wtf. Wtf. WTF!"
5) "My brain feels like a tablespoon of butter in microwave and is in real danger of leaking out my ears."
6) "Why is Jake Gyllenhaal here?"
7) Acceptance
The Subtle Art of Not Giving a F*ck by Mark Manson via Audible. Alright… Good enough background noise for development. I took a few notes. Nothing really shocking or new, but always good reminders. Probably a great blog or podcast.
Unbroken: A World War II Story of Survival, Resilience and Redemption by Laura Hillenbrand was a recommendation from a friend back home in Duluth, Minnesota. You might know her as @SharonSaysSo on IG, I know her as Sharon McMahon aka Three Irish Girls Photography aka the best photographer in Minnesota for family, lifestyle, portraits, newborns, wedding, and grad pictures.
DESCRIPTION: Unbroken follows Louie Zamperini's life from childhood antics, to becoming one of the fastest mile-runners in the world, to Olympian, to soldier, to POW and back home. It's a wild ride every step of the way.
DISCUSSION: I don't know where to start. I couldn't put it down. It was so good that half-way through, I bought a copy for my dad and sent it to him. Then a few chapters later, I almost regretted it because the descriptions of abuse in POW camp in Japan got so graphic and violent it made my stomach lurch. The ending was so touching chapter over chapter that I had tears in my eyes for days. I cannot believe any of them survived, let alone Louie, with the levels of abuse he and so many others experienced.
It's not a fast read, but it's so worth it and the author is incredible at capturing each phase. I loved reading her notes at the end as to how much she researched and how many people she interviewed to complete the story. She must have dedicated years to this and it shows. I'm not even sure I want to watch the movie, I feel like that will ruin the experience of what I just read.
RATING: 5/5 100% would recommend.
FAVORITE QUOTE: "Dignity is as essential to human life as water, food, and oxygen. The stubborn retention of it, even in the face of extreme physical hardship, can hold a man's soul in his body long past the point at which the body should have surrendered it."
The Woman in the Window via Libby App. I don't remember what drew me to this book other than searching the Libby App for "currently available reads" for a commute I had. It was good enough, not great, but certainly not bad. I'm curious that the movie might be better and can totally see Amy Adams as the main character.
DESCRIPTION: Anna Fox, a child psychologist, has been living in her home afraid to go outside, and diagnosed with extreme agoraphobia (fear of going outside). She lives off prescription medication and merlot, and voyeurs on her neighbors through the blinds of her home as entertainment. During one of her spy-sesh's, she witnesses one of her neighbors being stabbed and then finds herself in a cycle of trying to figure out if she witnessed a murder, or if she was having a crazy hallucination as a result of her prescription drug and alcohol abuse. The ending was truly shocking and not where I expected it to go at all.
DISCUSSION: My biggest problem with this novel was the pace. I think it was slow and borderline repetitive until the climax really brings it in. I didn't love the immediate discreditaton by the detectives of Anna, and how they of course seemed to take Alistair's word for it. But we're not really let into that part of the plot to see what sort of "detective work" went into them believing him and calling Anna crazy. It was just too obvious for me. The style of writing kept me going, and of course I needed to know what happened so it was easy to finish, and the endin/plot reveal made up for the lameness in the book for me.
RATING: 3.75/5 stars. I'll let you make your judgement on whether or not it goes on the TBR list.
FAVORITE QUOTE: "I was fighting for my life. So I must not want to die. And if I don't want to die, I've got to start living."
All the Ugly and Wonderful Things by Bryn Greenwood was lent to me by my mother in law and as I was reading it and blushing I couldn't believe that she read this! LOL There are severe triggers of abuse, child molestation, drugs, and sexual abuse. The only thing that kept my mind straight in reading this was knowing the author loosely based it off her personal experiences growing up with a meth-making and dealing father, and her own relationship with a significantly older man at the age of 13. Certainly not easy to swallow, but when you're reading it, it saves you from thinking this woman needs to be locked up for even "going there."
That is definitely why the reviews are so split on this. On one hand, it's so extremely taboo and wrong to write about, but on the other hand, it was probably cathartic for Bryn to write about. I loved her notes to the reader at the end that force you to think complexly about consent. Not just the complexity of consent around what happens to Wavy with Kellen, but the other ways consent is violated in non-sexual ways for Wavy. Her father, Liam. Her Aunt Brenda. Teachers. Family. That damned church lady I wanted to bitch slap.
All the Ugly and Wonderful Things will not be for everyone. But for as much as I was shocked, I found it riveting, compelling, and forced me to think outside the box.
My favorite quote comes from Greenwood's notes to the reader: "The end result is not one we would wish for any young girl, but what part of Wavy's life is?"
Once There Were Wolves by Charlotte McConaghy was my BOTM pick for August and the last book I finished of the month. It started out pretty slow, and I almost lost interest. However, I was intrigued because it connects my passion for sustainability with a bit of a thriller complex so I kept going. Specifically, it assimilates to the Yellowstone wolf project, where reintroducing wolves into YNP for the first time in a hundred years changed so much of the ecosystem for the better that it actually impacted the way the rivers flowed.
Mid-way through the book, I perked up a bit more and really got invested and that momentum continued to build throughout the rest of the book. It's really hard to write without spoiling it, but when the reveals are made, that's certainly not what I had anticipated! It's a fascinating book, and certainly entertaining… I was pleasantly surprised at how engaging it was. This is also one of those books I probably wouldn't have found without BOTM. I'm glad I landed on it.
Well, that's it this month! And I certainly surprised myself by hitting my goal of 60 books this year SO EARLY! my second goal is 75 books, and if I hit that, I'd like to hit 60 texts read, not counting audiobooks. Libby has certainly been a game changer for me in having access to books :)…
What were your favorites this month? And what is on your September TBR list?? I just started watching Nine Perfect Strangers on Netflix while reading the book at the same time! I'll let you know how that goes!